In today's world, there's no shortage of books and lessons for Christian women. Your friend, mom, or coworker is probably always talking about the "best book" that you "just have to read." But if you're reading this article, you're probably looking for the Bible study that speaks to you.
That's where this guide comes in. We'll go over some helpful tips for selecting the right Bible study, then review our top recommendations:
Let's start by taking a closer look at how to narrow down your Bible study search.

What to Look for in Bible Studies for Women
Maybe you're looking for a book to get through a period of mourning, or perhaps you're experiencing spiritual dryness and want to rediscover your hunger for Scripture.
Women's Bible studies are books, workbooks, videos, and other resources that help women deepen their understanding of the Bible and apply it to their everyday lives. But it's important to recognize that a Bible study won't be the answer to all your problems.
The best resource will supplement your study of Scripture, not replace it. Think of it as a stepping stone in your journey to closeness with God. God, in His graciousness, allows us to have a relationship with Him, and the encouragement of fellow believers can help us take that relationship deeper.
Women's Bible studies do exactly that when they have the following qualities: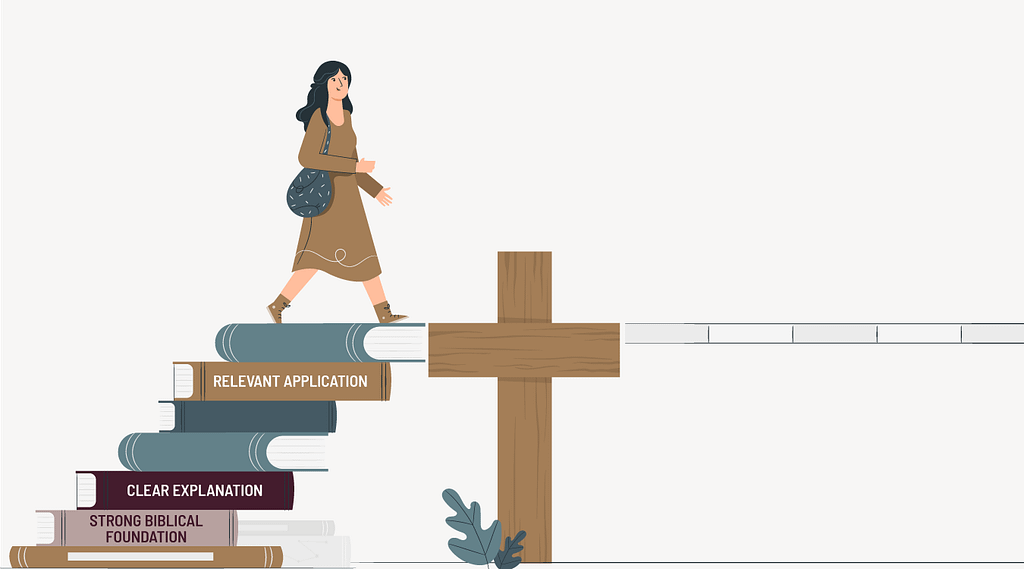 Strong, biblical foundation: Instead of simply motivating the reader or repeating common Christian cliches, find a Bible study that is completely derived from Scripture. Everything in the study should be biblically based, scripturally accurate, and should point you back to the Bible as the main source of truth.
Clear explanation: The right teacher can be highly influential in a student's motivation to learn, and the same can be said about women's Bible studies! Look for one that helps you understand the Word more clearly by meeting your learning needs. Whether it's a writing style you enjoy or a homework structure that helps you learn, you'll be fully engaged while reading and more excited to study.
Relevant application: Context is everything when it comes to studying Scripture. Be sure to choose a Bible study that doesn't haphazardly quote the Bible but deliberately refers to passages that apply to the topic at hand. The biblical intention for the verse should match how the text is used in the Bible study.
Most importantly, the study you choose should be a true deep dive into Scripture, not just a self-help book. After all, if your Bible study is a collection of the author's thoughts and motivational ideas, then it's just a book! Instead, Scripture tells us that God's Word is the most valuable resource for learning how to be women of God:
"All Scripture is breathed out by God and profitable for teaching, for reproof, for correction, and for training in righteousness, that the man of God may be complete, equipped for every good work."
2 Timothy 3:16-17, ESV
Your Bible study must be completely rooted in Scripture in order to deepen your understanding of God's Word.
Types of Women's Bible Studies
Bible studies for women have different intended study environments. While some are targeted toward groups of women, others aim to reach an audience of one.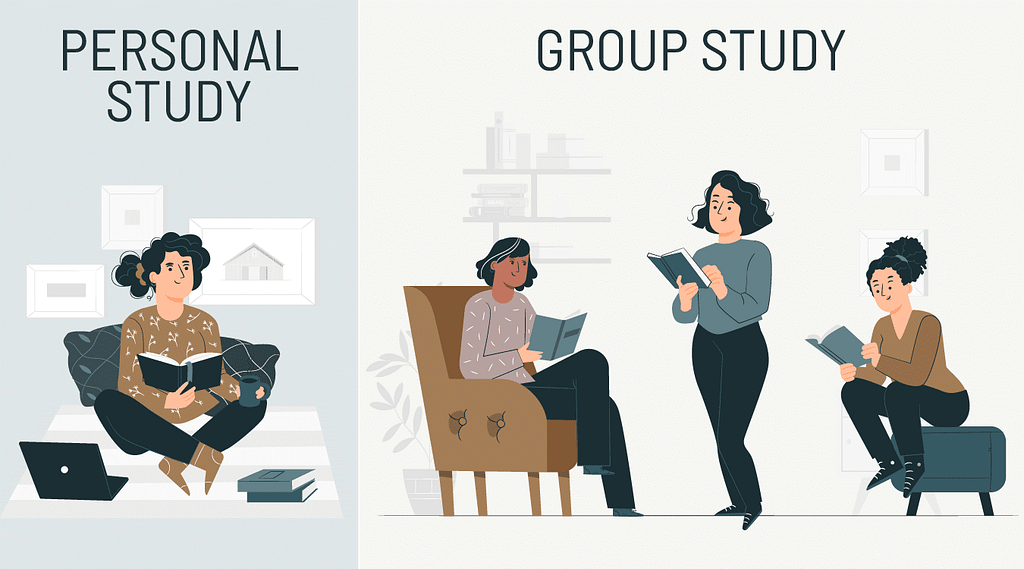 A personal study is something to read privately, perhaps as part of your alone time with God or a daily devotional routine. This could be a workbook that focuses on the inward, asking readers to learn a lesson and evaluate themselves.
But communion with fellow believers also has its place. Group studies encourage collaboration and open discussions, helping women learn from and grow with one another. The importance of fellowship is emphasized in Scripture, which makes it very clear that we should help each other grow spiritually:
"And let us consider how to stir up one another to love and good works, not neglecting to meet together, as is the habit of some, but encouraging one another, and all the more as you see the Day drawing near."
Hebrews 10:24-25, ESV
As Christian women, it's our responsibility to humbly pursue the knowledge of truth! When women come together to study Scripture and exchange their stories of God's work in their lives, they'll gain new perspectives and cultivate relationships with their sisters in Christ.
Different types of Bible studies for women can help you learn in different ways, especially as they build off of one another. For example, a personal study about servitude might speak to you profoundly during your daily quiet time. Then, when you join a group study on the importance of church membership, you'll be able to apply (and share) what you learned about serving the body of Christ.
Topics of Bible Studies for Women
We've covered the qualities of the best Bible studies for women and the different types of studies you might find, but let's take a closer look at the content of those studies. When it comes to Bible study topics, there are three different types: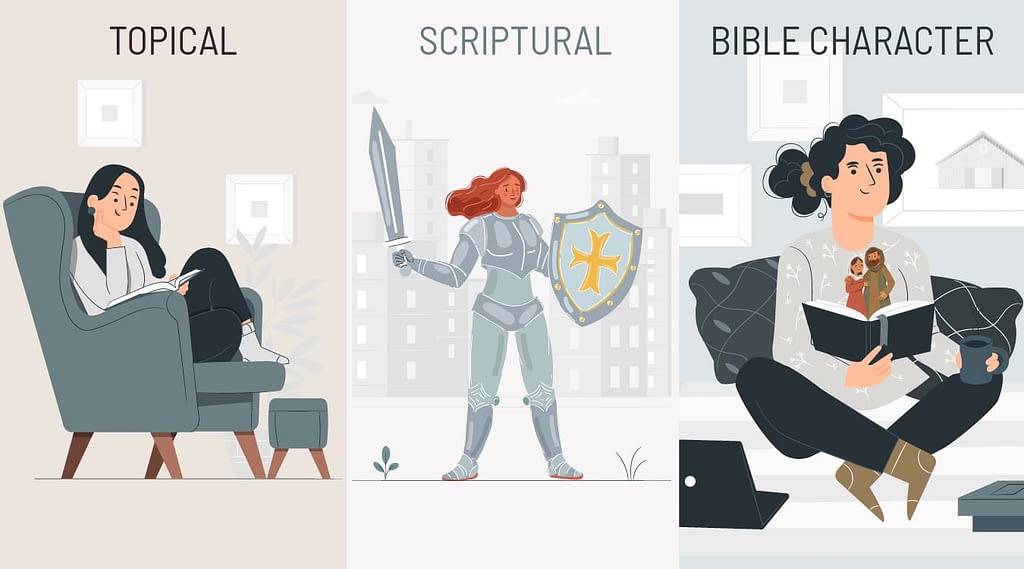 Topical studies: Topical Bible studies are studies about a specific issue that use scriptural references from all throughout the Bible. For example, it might explore how the Old and New Testaments address prayer and encourage you to enhance your prayer life by giving practical tips for your quiet time.
Scriptural studies: Think about scriptural Bible studies like expository preaching. Instead of finding Bible verses to address a topic, scriptural studies simply focus on a passage of Scripture. This might cover a full book of the Bible, a specific chapter, or a small set of verses. These studies apply Scripture to the readers' lives, equipping them to approach the world clothed in the armor of God.
Bible character studies: The people mentioned in the Bible are real, historical figures whose stories are important for understanding the body of Christ. The stories of biblical women in particular can encourage us today to be strong women of Christ. Bible character studies observe these characters' stories and apply their lessons to the readers' lives.
Whether there's a point of spiritual weakness you want to overcome or a book of the Bible you'd like to learn more about, there are numerous women's Bible studies to cover each of these topics. Now that you know what to look for, we've compiled a list of the best Bible studies for women to kick off your research.
Our Top Women's Bible Study Recommendation: She Belongs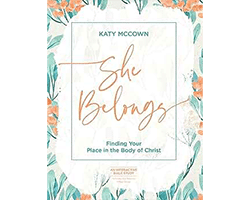 "The key to keeping it together is coming together," says Katy McCown, author of the Bible study She Belongs.
This five-week, online Bible study helps women understand their identity as a child of God and a member of His family. Finding your identity in Christ and your place in the body of believers is essential to knowing peace, feeling security, and fulfilling the purpose that Jesus promises.
At Esther Press, we regularly update our featured study with online community resources. She Belongs is our current featured study, which begins on September 20.

8 Best Bible Studies for Women
Once you've done your research to choose the right women's Bible study, it's time to actually choose one! We've compiled a list of our favorite picks, which includes a healthy variety of topical, scriptural, Bible character, group, and individual studies to meet every woman's Bible study criteria!
You Are Unshaken by Laura Krokos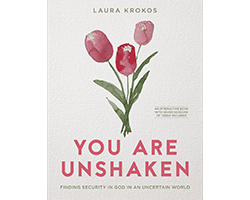 No matter how seasoned of a Christian you believe yourself to be, every woman can easily fall for the lie that she is unseen, powerless, or hopeless. You Are Unshaken by Laura Krokos exposes one lie in each chapter and explains how we can combat it with scriptural truth. In general, the study teaches women how to:
See themselves as God sees them
Use God's Word
Overcome distractions and discouragements
Find peace in hard times
This Bible study also features video access along with purchasing the book at no extra cost, making it a well-rounded resource for studying your identity in God's eyes.
Fall in Love with God's Word by Brittany Ann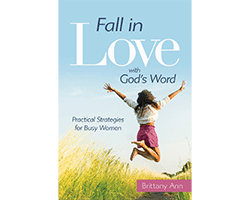 Although Fall in Love with God's Word is a book, it covers an essential topic: Bible study! Brittany Ann explains how busy women can make time to study Scripture deeply (and willingly!), offering practical strategies to help women dive deeper into the Word. Specifically, this book explores:
Spiritual resistance
Prioritizing your quiet time
The life-changing power of Bible study
This book is a topical study on reading the Bible, even in the midst of a busy schedule. It can be studied individually or as a group!
Through the Desert: A Study on God's Faithfulness by Lina Abujamra
Whether you're struggling to find the motivation to study Scripture or simply defeated by the weight of the world, spiritual dryness can make you feel like you're in a desert. But throughout Scripture, God has proven Himself faithful in the desert, both metaphorical and literal.
In this six-week study, Through the Desert uses Scripture to teach women how they can combat common struggles, such as:
Trusting God
Finding purpose and direction
Feeling trapped and afraid
Failure and defeat
Freedom from sin and temptation
Through the Desert is another topical study that includes video access at no extra cost.
She Smiles Without Fear by Katy McCown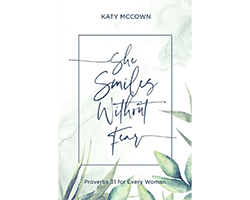 This scriptural study focuses on Proverbs 31, which describes a woman who fears the Lord. But the type of fear discussed in Proverbs 31 actually refers to the confidence and security found in God's plans. The woman who finds this will smile without fear!
The study provides scriptural advice for:
Overcoming anxiety
Combatting fear
Finding peace, joy, and purpose
The five-week study can be purchased as a personal study or a group study (with personal homework to complete in between group meetings). It also comes with six video sessions that can be accessed online.
Your God Knows by Lisa Whittle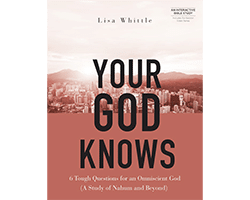 If you're tired of studying the same, popular Bible stories or looking to learn more about the rarely studied books of the Bible, this one's for you! In her Bible study, Your God Knows, Lisa Whittle explores the book of Nahum, which contains a collection of prophetic poems about God's justice.
The book addresses six hard-to-answer questions:
Am I forgotten?
How does good come from bad?
Do my desires and dreams matter?
Am I doomed by the sins of my family?
Will God make wrong things right?
Will I be okay?
Your God Knows is another interactive Bible study, offering six video-based sessions (with access included in the book) to uncover the truth of God's promises for difficult times.
The Bible Recap: A One-Year Guide to Reading and Understanding the Entire Bible by Tara-Leigh Cobble
We've all been there: You really want to read your Bible, but you're in a chapter (or an entire book) that you've read a thousand times. You shouldn't feel that you have to go to seminary to unlock deeper meaning in the stories of the Bible or to see them as one, great story.
Tara-Leigh Cobble takes readers chronologically through the Bible in The Bible Recap, connecting Scripture's stories as you read. This scriptural study even has a free, daily podcast that briefly discusses the reading for the day and Cobble's "God shot," or the place in Scripture where she saw God most clearly.
Wait and See by Wendy Pope
Uncertainty can make even the most patient people uneasy, which is why the mystery of God's plan is something that everyone struggles with! In Wait and See, Wendy Pope uses the lives of Joseph, Moses, David, Nehemiah, Abraham and Sarah, and Noah to show how readers can wait for God's plan to come to fruition.
This six-session study has no outside homework or additional reading. Each session includes a 10-minute video teaching and questions about the person being studied.
Live Hopefully: A Study in the Book of Nehemiah by Lenya Heitzig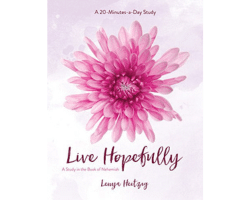 Are you looking for hope? Do you want to know how you can have confident expectations for the future?
In 20 minutes a day, Lenya Heitzig's Live Hopefully studies Nehemiah and explores our God-given calling to live boldly. This 10-week study is divided into five days of study, each with five elements:
Lift up in prayer
Look at God's Word
Learn about new insights
Live out through application in your life
Listen to other believers
This study gives readers a scriptural basis for living out the hope that only God can give.
Additional Resources On The Best Bible Studies for Women
The best Bible studies for women follow common standards, like biblical basis, but are also distinctive in their own ways. Ultimately, it's up to you to choose the study that will have the most meaningful impact on your spiritual walk.
If you're interested in learning more about the impact of a good Bible study, check out the following resources:
The Top 10 Christian Books for Women Everyone Needs to Read. Looking for the next book to read in between Bible studies? Check out our guide to must-read Christian books for women!
The Importance of Encouragement. Want to know more about the importance of fellowship with your sisters in Christ? Learn how and why we should encourage each other in this article.
8 Spiritual Disciplines for Courageous Christian Women. Growing your faith involves living it out, and the best Bible studies for women will explain how you can do that! Learn more about spiritual disciplines that you should follow in this article.
Scripture quotations are from The ESV® Bible (The Holy Bible, English Standard Version®), copyright © 2001 by Bible Gateway, a member of HarperCollins Christian Publishing. Used by permission. All rights reserved.
---
Subscribe now to get weekly biblical encouragement delivered to your inbox, along with exclusive discounts, sneak peeks, event updates, and more!
---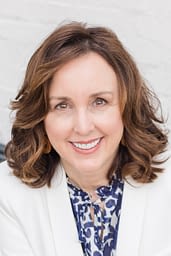 Susan McPherson is an Author Acquisitions Editor for David C Cook Publishing and their Esther Press imprint for women. She is dedicated to encouraging and equipping women to courageously stand strong in the truth of God's Word through her work leading the women's community for Esther Press. She loves Jesus, coffee, college football, and her life as a wife and mother in the Nashville, Tennessee area.