During the week between Christmas and New Year's, I find myself, probably like most of you, reflecting on the past twelve months. Several years ago as our older children became a suitable age, we held a family meeting on New Year's Eve where everyone brought an index card filled with notes to share. We talked about significant happenings that occurred in the year, both unfortunate and fortunate events and how we could see God's loving kindness in both. We shared what we were looking forward to in the next year as well as the reasonable and realistic goals we were setting for ourselves. This meeting became a tradition that everyone looks forward to each year. One of the goals I have for this coming year is to be more intentional in my encouragement of others.
The tasks I have to do in a single day can often overwhelm me. It's easy for me to put the seemingly small act of a quick text to a friend just to encourage her in the Lord, or even to schedule a coffee date, so far down the to-do list that it falls to the next day and then to the next day before it falls off the list completely.
Really, how important is encouragement? I mean, sure, the Bible mentions it a few times. But it's not like it's life or death, right? The Lord has a challenging view of the importance of encouragement in a believer's life that He gives us in the book of Hebrews. But before we get there, we need to wander in the desert with the Israelites first.
If you're familiar with the story of the Israelites departure from Egypt, you'll remember that they saw first-hand the staggering number of miracles by the living God who heard their cries and pleas for deliverance and saved them from bondage. These people had a front-row seat to the ten plagues and shuffled their feet over wilderness terrain behind a cloud during the day and a fire by night. They walked through the muck of a sea floor where water was separated for their evacuation. They drank water that gurgled and burbled from the interior of a rock. The myriad ways in which they saw the almighty God physically intervene in their circumstances for their benefit go on.
Yet at no point on this miracle list does one item feel lower tier than another. They were all equally supernatural. For the people of God who had their hunger sated from an unknown substance that fell from the sky but surely wasn't precipitation; for those who tasted water sweetened by a log thrown in a bitter source; for those who slogged and stumbled through the desert for forty years wearing shoes that refused to wear out—they saw God move and work and care for their real needs in real time.
This God who bestowed such unparalleled kindness, grace, and mercy had a mandate for the people He would set apart and call His own:
"to fear the LORD your God, to walk in all his ways, to love him, to serve the LORD your God with all your heart and with all your soul, and to keep the commandments and statutes of the LORD, which I am commanding you today for your good."

(Deut. 10:12-13)
God told his people through Moses that if they obeyed, they could expect blessing. If they turned to their own devices, if they forsook the Savior who had rescued them with His mighty hand, they would be cursed (Deut. 11:26-28).
So the Hebrews took these pregnant words from God, full of potential and promise and then … grumbled and complained and worshiped worthless, dead idols all the way from one end of the wilderness to the other! They chose the curse because they chose not to walk with Him. And as much as we scoff and jeer at those foolish people who lived millennia ago, each of us does the same thing every day. We make incremental choices that move us off the path God has for us. We're hungry but we pass on the Bread of Life, nibbling instead on a morsel that will leave us woefully unsatisfied. We start to question God's truth and forget what a life obedient to Christ offers us.
The Lord chastised and rebuked His people's words, attitudes, and motives. Moses warned his charges they were testing the Lord and yet they didn't stop. Not only did they not stop, there seemed to be no detractors, no outliers to their sinful madness. Repeatedly, the author of the Pentateuch uses the word "people" to signify the group that came out of Egypt under the Lord's care were a collective. And collectively, they were all sinning against the Lord their God.
What does it take to choose the blessing over the curse? What does it take to remind us that there is joy found in obedience, that the Lord has good things in store for us that will always glorify Himself, and there is growth He wants us to experience?
Encouragement can be a difference maker in a day. The Holy Spirit will do His work undoubtedly, but how much more effectively if there's been an aptly spoken word (Prov. 25:11). It's like cultivating a field so it can yield the best harvest. When someone offers exhortation it can brighten a friend's outlook, change the tenor of the room, or be a positive force in a camp of grumbling, grumpy Israelites.
"Take care, brothers, lest there be in any of you an evil, unbelieving heart, leading you to fall away from the living God. But exhort one another every day, as long as it is called 'today,' that none of you may be hardened by the deceitfulness of sin. For we have come to share in Christ, if indeed we hold our original confidence firm to the end. As it is said, 'Today, if you hear his voice, do not harden your hearts as in the rebellion.' For who were those who heard and yet rebelled? Was it not all those who left Egypt led by Moses? And with whom was he provoked for forty years? Was it not with those who sinned, whose bodies fell in the wilderness? And to whom did he swear that they would not enter his rest, but to those who were disobedient? So we see that they were unable to enter because of unbelief."

(Heb. 3:12-19)
Scripture explains in this passage that a conduit to obedience is encouragement. What was needed then, what is needed now, is to exhort others by reminding them of God's truth or by sharing the testimony of the Lord at work in our personal lives. We need to be encouraged and we need to encourage others. Every single day.
Turns out, encouragement is a matter of life or death.
The Israelites witnessed first-hand God's miracles and yet that wasn't enough to keep their hearts from unbelief. They needed to be encouraged by others with the truth they knew to be true, to be reminded of the things they had seen, to be prompted to turn to the God who loved them, to turn away from the deceptiveness of the enemy's lies. If you are a believer in Christ, you have seen first-hand the work of God in your life. But how easy it is for us to forget, to allow distractions to overtake the most important and necessary things.
Since all believers are called to hold on to our conviction until our last day and we get there, in part, by the encouragement from other believers, then it is imperative that we prioritize doing that for someone today, for as long as it is called "today."
As I sit here both looking back at the year that was and looking forward to what the new one may hold, I am purposing myself to intentionally encourage others. I have a feeling the goal of exhorting my sisters in Christ will probably start with setting a reminder on my phone but I know that, like all good and godly habits, it can become a natural part of my day. I will take care to see that the texts and the lunch dates never dangle perilously on the bottom of my to-do list. I can see now that what I thought was inconsequential could actually have eternal impact for the kingdom of God. Who is in your life that you need to be more intentional about encouraging? What small ways can you remind someone of God's truth today?
---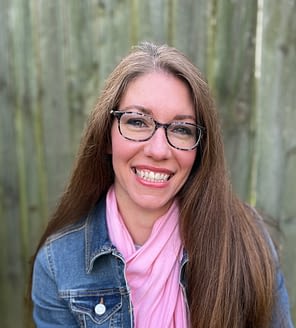 Dana Carrington loves Jesus and words. She has lived in the national capital region for thirteen years but loves to venture to parts far and wide. Her husband and four kiddos are her greatest delight.
Image by: GettyImages