Over the summer, the Esther Press blog authors wrote a series on the full armor of God. We covered the belt of truth, the breastplate of righteousness, the shoes of gospel peace, the shield of faith, the helmet of salvation, and the sword of the Spirit. Before we leave this topic completely, I thought it might be helpful just to tie up a loose end or two.
If you missed the series and are wondering what the armor of God is and how it is particularly helpful to us as women, here's a brief recap. Ephesians 6 reminds us that we fight against the schemes of the devil and as such, we need to be prepared for battle. "Stand therefore, having fastened on the belt of truth, and having put on the breastplate of righteousness, and as shoes for your feet, having put on the readiness given by the gospel of peace. In all circumstances take up the shield of faith, with which you can extinguish all the flaming darts of the evil one; and take the helmet of salvation, and the sword of the Spirit, which is the word of God" (Eph. 6:14–17).
In Mandy Johnson's article on the belt of truth, she explained that we must resist the lies of the Enemy with the truth of who God says we are. Maribeth Dodd told us we wear the breastplate of righteousness when we understand that righteousness is a gift from God, not something we achieve or earn. Inner peace, as LaTan Murphy so lovingly reminded us, is found only in Christ and His gospel. Angela Reed recalled Abraham's choice to pick up and go to a place the Lord led him to show us what a shield of faith actually looks like. The helmet of salvation article taught how important it is to clearly understand who saves us, how He saves us, and why it matters. Finally, Brittany Ann gave us practical ways to use the sword of the Spirit, our Bibles, to defend against our Enemy.
There are more than a few components to the armor of God and admittedly, it's a lot to remember. Sometimes I'm doing good to put on actual shoes instead of slippers to run errands; how am I supposed to remember to wear shoes of gospel peace on a daily basis? Scripture gives us the answer: prayer. Ephesians 6:17 picks up right after the sword of the Spirit with, "praying at all times in the Spirit, with all prayers and supplication." Essentially, we're supposed to put on all these pieces of armor, our defense against the Enemy, and then pray.
The passage tells us to pray "in the Spirit." One of the many roles the Holy Spirit fulfills is intercession, to go between us and God the Father. Romans 8:28 says, "Likewise the Spirit helps us in our weakness. For we do not know what to pray for as we ought, but the Spirit himself intercedes for us with groanings too deep for words." When we don't know what to pray, when our heart is crushed from tragedy, when our panicked brains can't seem to put a sentence together, the Spirit beautifully fills in the gaps for us.
The passage in Ephesians also mentions both prayers and supplications. What's the difference? Well, as a self-proclaimed word nerd, I had a grand time looking into this very question! The prayer used here is the Greek word proseuche and is understood to be the broadest sense of talking to God. It is a believer's privilege to have an open line of communication with God and this umbrella term catches all the different forms, from a prayer of thanksgiving, a prayer of praise, or a prayer of request. Supplication in this verse is the Greek word deesis, a stronger, more intense word than proseuche. It carries more weight and has a sense of urgency attached to it. So to paraphrase Paul, the writer of Ephesians, we need to put on the armor of God and pray continuously, both the general run-of-the-mill chats with God as well as the beseeching pleas.
Paul finishes off the armor of God excerpt with one final instruction: "keep alert with all perseverance, making supplication for all the saints." We keep alert because our "adversary the devil prowls around like a roaring lion, seeking someone to devour" (1 Pet. 5:8). He is the master at deception and oftentimes, the temptation of sin doesn't look overtly like sin. Charles Spurgeon, a nineteenth-century preacher, said, "Discernment is not knowing the difference between right and wrong. It is knowing the difference between right and almost right." Remember, Paul started this passage telling us that we needed to "stand against the schemes of the devil" (v. 11), "stand firm" (v. 13), and "stand, therefore" (v.14). I'm getting the idea that there's not a lot of sitting around with this armor on! It takes vigilance, but not just for the benefit of ourselves.
Paul tells us to make "supplication for all the saints." Those are our sisters (and brothers) in Christ. And remember the supplication prayers are the weighty ones. We're going to battle on behalf of our sisters in prayer with the Holy Spirit to help us. That's a huge responsibility. I have a dear friend who is usually game for a proverbial swim in the deep end of the "Grave and Serious Topics that Often Have No Quick or Easy Solutions" pool. As we get off the phone and I thank her for her time and willingness to suit up and dive into the murky waters with me, she reminds me that the armor of God doesn't cover our backs.
That's what we do for each other.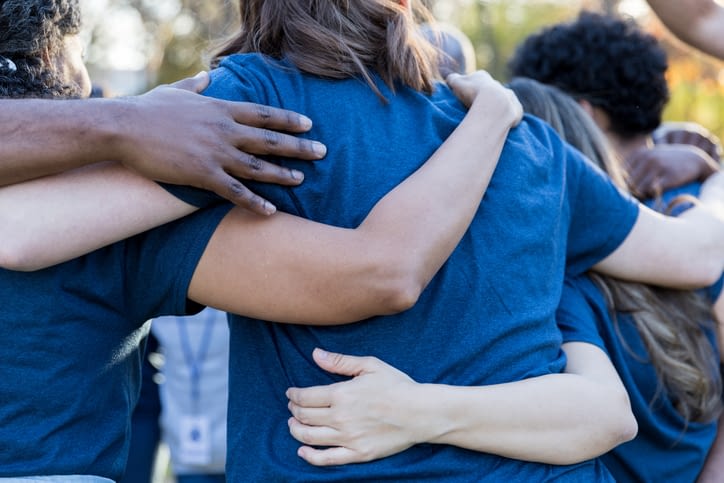 There's courage needed in this commitment to pray for others, to remind your circle to suit up into armor. You might be inclined to believe the lie that questions who are you to encourage someone else to take up their shield of faith when you feel like yours is so weak? What a fraud you would be to embolden a sister to don the breastplate of righteousness when you sometimes doubt God's all-sufficiency in your own salvation. Don't grow weary. Trust that as you pray for other saints, they're praying for you. With the help of the Spirit, you will be able to stand firm.
What ways do you put on the armor of God each day? As you get dressed (however that might be for you: half-asleep, hurriedly, in the dark, with a person clinging to you, or swiping off pet hair as you go), maybe assign each article a corresponding armor component. Pray for the Spirit to help you defend against the Enemy with truth, righteousness, peace, faith, salvation, and His Word.
---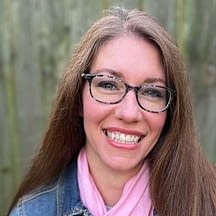 Dana Carrington loves Jesus and words. A southern transplant now living in the national capital region, she reads travel guides for fun and has an extensive song lyric database in her brain which comes in handy for games of Name that Tune on road trips. She understands fruitcake's bad rap is well-deserved, but is willing to bet her family's recipe will change hearts and minds. Her husband and four kiddos are her greatest delight.