As a child, I remember Sunday school lessons on the armor of God usually involved a construction paper belt of truth that I decorated with stickers, sequins, and any other odds and ends the teacher let us get our hands on. As an adult though, I can see how what I once thought was only a colorful accessory to my Sunday best is actually vital to defending myself from lies that surface to attack every day. Take, for instance, a seemingly simple park playdate with two of my mom friends:
With an overflowing stroller and energetic toddler, I fumbled my way over to a wooden picnic table. My friends reached into their diaper bags and pulled out pink and purple plastic plates with lids along with matching utensils and water cups, then laid everything out on our table like we were about to partake in a holiday feast.
They peeled off the lids of their lunch plates with care, revealing perfectly cut sandwiches with nothing oozing out of the sides, dollops of fresh hummus, bright red strawberries, and ripe green cucumber slices cut in the shape of Mickey Mouse. Not only did my friends arrive more than prepared for their children, but they also made beautiful lunches for themselves.
I don't want to pull our food out of my diaper bag, I thought, but my son wanted to eat, especially after seeing the varied and colorful lunches his friends had sitting in front of them. I reached into my bag and lifted a black hand-me-down lunchbox stuffed with anything I could fit into it on my way out of our house that morning. A piece of string cheese, a protein bar, pretzels, and a crumbled white napkin stared me in the face as evil jumped on the opportunity to take my thoughts for a spin.
I'm not a good enough mom.
I don't measure up to these moms.
I'm a disappointment to my son.
Why We Need the Armor of God
Whether you're a mother or not, the temptation to believe lies like these is real, and it's challenging to recover from in the moment, right? Like the not-happily-single girl who believes she's unworthy when she finds out yet another friend is engaged, the corporate go-getter who feels like a failure when she doesn't earn a promotion, or a mom like me who lets worldly pressures steal her joy.
One lie at a time, Satan aims to erode our confidence in ourselves, our decisions, and our identity in Christ. John 8:44b tells us, "When he lies, he speaks out of his own character, for he is a liar and the father of lies." This is a challenging reality to remember at times, especially because we don't visibly see Satan attacking us in the form of a nine-foot giant or a fire-breathing dragon. Instead, we see him at work in our thoughts, luring us to believe lies if we aren't prepared to defend ourselves with truth.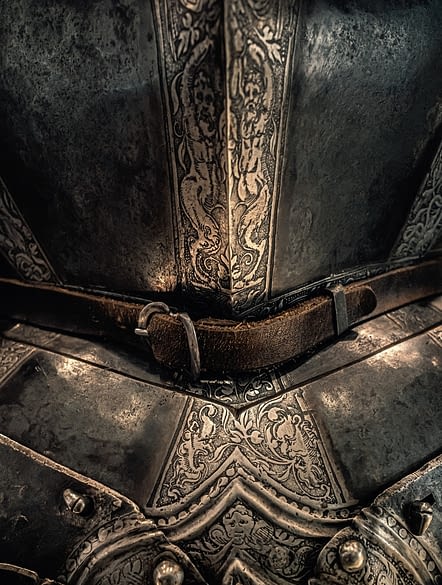 3 Ways the Belt of Truth Serves Us and Glorifies God
Ephesians 6:11 says, "Put on the whole armor of God, that you may be able to stand against the schemes of the Devil. For we do not wrestle against flesh and blood, but against the rulers, against the authorities, against the cosmic powers over this present darkness, against the spiritual forces of evil in the heavenly places. Therefore take up the whole armor of God, that you may be able to withstand in the evil day, and having done all, to stand firm. Stand therefore, having fastened on the belt of truth, and having put on the breastplate of righteousness,and, as shoes for your feet, having put on the readiness given by the gospel of peace."
Paul uses the imagery of a Roman soldier's armor to show us what it means to prepare for spiritual battles. For the warrior, each piece had a specific use and combined with the others, protected him from harm. Today, some use belts for utility, like keeping pants up or holding tools; others might use a belt to complete a cute outfit. In the same way our belts serve as useful and perfect finishing touches, God's belt of truth serves our hearts and minds when we keep it fastened closely. Friend, as you courageously stand firm against the Devil's evil schemes, remember these three benefits of fastening your belt of truth today.
1. Divine Defense
Have you noticed that most of the equipment Paul references in the armor of God is used to defend, not attack? Rooting ourselves in God's truth gives us the ability to stand our ground when we're caught off guard by a triggering moment—when we're faced with a choice to walk into one of the Devil's traps or to cling to our faith.
One practical exercise you can do is write down the common lies or negative thoughts that often pop into your head about yourself or your situation, then write a truth from Scripture next to each one to memorize. For example:
Lie: "I am not a good enough [fill in the blank]."
Truth: "I praise you, for I am fearfully and wonderfully made. Wonderful are your works; my soul knows it very well." (Psalm 139:14)
Lie: "I'm always going to be alone."
Truth: "Have I not commanded you? Be strong and courageous. Do not be frightened, and do not be dismayed, for the LORD your God is with you wherever you go." (Joshua 1:9)
Lie: "I'm unwanted."
Truth: "You did not choose me, but I chose you and appointed you that you should go and bear fruit and that your fruit should abide, so that whatever you ask the Father in my name, he may give it to you." (John 15:16)
The Enemy fights to distract your mind from truth. Jesus died to show you He is the truth. Friend, be encouraged to defend yourself in these daily battles by studying, memorizing, and praying God's Word.
2. A Radical Reminder
Do you ever try to do things in your own strength, only to fall short? Do you think you can do it all, then realize when your eyes are heavy and your body is exhausted, you can't? Been there! In the same way the Devil lures us into believing belittling lies about ourselves, he also invites us to exalt ourselves and our abilities. If the Devil can influence us to believe we don't need Jesus, he will.
When we resist relying on God to sustain us through His Word and Spirit, it's like entering into our spiritual battles with a plastic butter knife. We don't stand a chance against the heavy blows pride delivers.
Friend, the belt of truth Paul instructs us to wear serves as a daily reminder that we have a trustworthy, reliable heavenly Father. God can handle our schedules, family responsibilities, and stresses better than anyone when we hand them to Him. As you spend time in God's Word and ask Him to equip you, will you also humble yourself and use that time as a radical reminder of His faithfulness?
3. Victory is Ours for the Taking
Several pastors and teachers have been credited with saying one of my favorite quotes, "We don't fight for victory. We fight from victory." Jesus defeated death and we get to spend eternity with Him in heaven. That's what the good news is all about, and it's worth celebrating and clinging to all the time!
Friend, your battles are deeply challenging, but God is with you. When you wake up before the sun to read your Bible, He sees you. When you refuse to fall for Satan's scummy schemes, He sees you. When you choose to love that one person who makes your life difficult, He sees you.
As you courageously prepare yourself for battle by clinging to truth today, know that because of Jesus, you've already won! The truth of God's Word endures forever, and it's a belt that goes with everything.
Related Posts:
How to Use the Sword of the Spirit
The Chemistry of a Confident Woman
---
Mandy Johnson is a writer and speaker who loves encouraging women in their faith. She lives in Nashville, Tennessee with her husband, Kyle, and their two children, Luke and Caroline. Mandy's devotions have been published by Proverbs 31 Ministries, the Truly Co. magazine, the Fellowship of Christian Athletes, and more. When Mandy isn't writing, you can find her spending time with her family, leading a fitness class at Fit Factory Nashville, or cheering on the Clemson Tigers! You can read more from Mandy at www.mandycjohnson.com or follow her on Instagram at @mandycjohnson.