Behold, children are a gift of the LORD, the fruit of the womb is a reward.
Psalm 127:3 (NASB)
Congratulations, you have won the prize! You get the reward: the incredible opportunity to love, protect, care for, and help shape a new life. Wow! That's…terrifying!
When we brought home our first, tiny baby, I was giddy. My husband and I were enamored with our little blond girl with the loud voice. She was my dream come true. For me, pregnancy and delivery had been a lovely experience. I had never felt better during those nine months and that epidural was the bomb! I had lots of help in those early weeks: my mom, my mother-in-law, my sister, and some friends. They cooked and cleaned and held the baby, and I slept and nursed. It was all dreamy…for a while.
Then, they all left.
My husband went to work and left me home—alone—with that tiny, screaming, eating machine. If I hadn't had a phone I may not be here today. Every day I called my mother. Every other day I called my best friend, who had her baby four weeks earlier, and we talked each other off the cliffs. I devoured every page of the baby books I had, read my Bible, prayed a lot, and slept little. In those days, I did not feel I had won a prize. I felt as if I were running a marathon without training!
Every little sound—or lack of sound—sent me rushing into her room. The voice in my head said the most ridiculous things: What was I thinking? I can't do this! I am going to be a terrible mother! I'm not sure I even like children! Sound familiar?
The living Word of God is our best defense against lies we tell ourselves. And where do those lying thoughts originate? The Enemy of our souls. Remember when our Savior was tempted by that liar, Jesus' response began, "It is written . . ." (Luke 4:4). Jesus knew "the word of God is living and active" (Heb. 4:12), which gave Him strength against the onslaught from the father of lies (John 8:44). You and I have that same weapon against lies, fears, doubts, and condemnation. I encourage you to arm yourself with Scripture as you walk through your day and speak them out loud to any ears that may be listening. I wrote them on sticky notes and put them on my mirror and above my kitchen sink. I reminded myself, God doesn't make mistakes! I was sovereignly, carefully chosen to be this child's mother.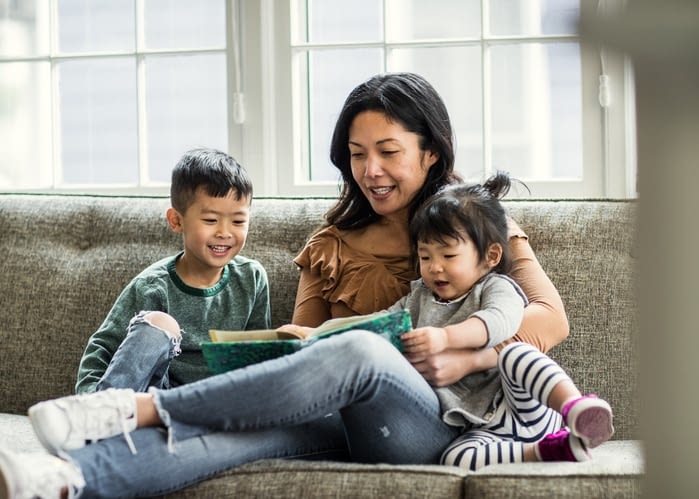 We can also find help from others on this journey. Their prayers and guidance are reassuring. I found encouragement in the book Soul Retreat for Moms compiled by Lila Empson. I especially loved this passage from that book written by my friend Melinda Mahand:
"Choose to take God's hand and join your heart with his. Just as a toddling child becomes more and more sure of his steps as he holds a parent's hand, so your steps will become firm as you walk with the Lord. He will meet all your needs, and you will experience the incredible reality that you are not alone. Today the Lord is offering to take your hand and walk beside you on life's journey. He wants to be not only your companion, but your guide and protector as well. Although you may be hurt by an occasional stumble, you will not be destroyed by a headlong fall as long as you are walking hand in hand with Him."
Our Father has given us the enormous privilege and responsibility to teach and train little ones. He has provided us with all the resources we need: His Word, the Holy Spirit who is with us, and the wise counsel of the trusted family of God. The process of parenting will take you to a new place in your own relationship with Him. You have been placed and privileged to parent. So be intentional about this parenting role. "Write these commandments that I've given you today on your hearts. Get them inside of you and then get them inside your children. Talk about them wherever you are, sitting at home or walking in the street; talk about them from the time you get up in the morning to when you fall into bed at night" (Deut. 6:6-7 MSG).
One of my favorite creative parenting books, The Artist's Way for Parents by Julia Cameron, puts it into perspective: "Parenting is also a spiritual undertaking. We are entrusted with the care of our children's souls as well as their bodies…. The early years of parenting can be one of the most inspiring chapters of your life, opening you to love and growth you may not have yet experienced." Our job, in addition to keeping our children alive and well, is helping them learn the big love story of the Bible so they will have a strong foundation of God's truth, which will help them come to know Him and live for Him. Psalm 145:4 says, "One generation shall commend your works to another, and shall declare your mighty acts."
You are gonna need help. And if you are like me, you appreciate all the help you can get! That blond baby girl is now thirty-one, and I searched for parenting wisdom through family, friends, church, books, articles, and conferences. If you are looking for books and simply google "books on Christian parenting," you could be easily overwhelmed. So, I have done some culling for you. Never could I choose a favorite book, since God used so many different authors to speak to me along the way. Here is a list of parenting books by authors I recommend. Some are older, others more recent. Having launched my own children, written a book on Christian parenting, and worked in the world of parenting for thirty plus years, I am happy to share these titles, and hope you see one or more which seem to say, "Read me!"
Sharing God's Big Love with Little Lives: A Can-Do Guide for Parents and Caregivers by Jean Thomason
Pray with Me: Help Your Child Engage in Authentic and Powerful Prayer by Erica Renaud
Grace Based Parenting: Set Your Family Tree by Tim Kimmel
Parenting: 14 Gospel Principles That Can Radically Change Your Family by Paul David Tripp
Moral Compass: Stories for a Life's Journey by William J. Bennett
Spiritual Parenting: An Awakening for Today's Families by Michelle Anthony
Soul Retreats for Moms: 15 Minute Meditations to Revive and Refresh Your Day by Lila Empson
The New Hide or Seek: Building Confidence in Your Child by James Dobson
Mom and Loving It: Finding Contentment in Real Life by Laurie Lovejoy Hilliard and Sharon Lovejoy Autry
Shepherding a Child's Heart by Tedd Tripp
Mom Up: Thriving with Grace in the Chaos of Motherhood by Kara-Kae James
Parenting Isn't for Cowards: The 'You Can Do It' Guide for Hassled Parents by James Dobson
Making Children Mind without Losing Yours by Kevin Lehman
Faith Begins at Home: The Family Makeover with Christ at the Center by Mark Holmen
Revolutionary Parenting: What the Research Shows Really Works by George Barna
What Every Mom Needs: Meet Your Nine Basic Needs (and Be a Better Mom) by Elisa Morgan and Carol Kuykendall
The Artist's Way for Parents: Raising Creative Children by Julia Cameron
Speaking Mom-ese: Moments of Peace and Inspiration in the Mother Tongue by Lisa Whelchel
Raising Your Kids to Love the Lord by Dave Stone
The Power of a Praying Parent by Stormie Omartian
Together, a Journal for Mom & Me: A Guided Experience Connecting Moms and Kids to God and Each Other by Kara-Kae James
Creative Correction: Extraordinary Ideas for Everyday Discipline by Lisa Whelchel
Parenting: Getting it Right by Andy and Sandra Stanley
Habits of the Household: Practicing the Story of God in Everyday Family Rhythms by Justin Whitmel Earley
Raising Amazing: Bringing Up Kids Who Love God, Like Their Family, and Do the Dishes without Being Asked by Monica Swanson
Disciplines of a Godly Family by Kent and Barbara Hughes
Mama Bear Apologetics: Empowering Your Kids to Challenge Cultural Lies by Hillary Morgan Ferrer
Surprised by Motherhood: Everything I Never Expected About Being a Mom by Lisa-Jo Baker
Raising Worry-Free Girls: Helping Your Daughter Feel Braver, Stronger, and Smarter in an Anxious World by Sissy Goff
Parenting with Heart: How Imperfect Parents Can Raise Resilient, Loving, and Wise-Hearted Kids by Steven James and Chip Dodd
The Mission of Motherhood: Touching Your Child's Heart for Eternity by Sally Clarkson
The Ministry of Motherhood: Following Christ's Example in Reaching the Hearts of Our Children by Sally Clarkson
Risen Motherhood: Gospel Hope for Everyday Moments by Emily Jenson & Laura Wifler
Parenting the Wholehearted Child: Captivating Your Child's Heart with God's Extravagant Grace by Jeannie Cunnion
Transforming Children into Spiritual Champions: Why Children Should be Your Church's #1 Priority by George Barna
Heirs of the Covenant: Leaving a Legacy of Faith for the Next Generation by Susan Hunt
Parenting Generation Screen: Guiding Your Kids to Be Wise in a Digital World by Jonathan McKee
What are some of your favorite books that have helped you on your journey through motherhood and raising kids?
---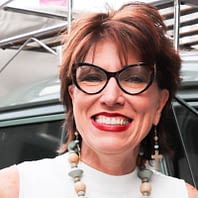 Jean Thomason has more than thirty-five years of experience as a musical performer, worship leader, songwriter, author, and conference speaker to women, parents, teachers, and children's ministers. She is also the living embodiment of the joyful children's musical character, Miss PattyCake. Through this brightly costumed character, Jean plants biblical truths into little lives, teaching God's Word through music, stories, and fun activities, while helping equip parents to lay a spiritual foundation. Additionally, Jean is author of Sharing God's Big Love with Little Lives as well as the brand ambassador for Momentum Influencer Network, a community of faith and family bloggers. She and her husband have two grown children and live in Franklin, Tennessee.
---
Scripture quotations marked NASB are taken from the (NASB®) New American Standard Bible®,
Copyright © 1960, 2020 by The Lockman Foundation. Used by permission. All rights reserved.
www.lockman.org.
Scripture quotations marked MSG are taken from THE MESSAGE, copyright © 1993, 2018 by
Eugene H. Peterson. Used by permission of NavPress, represented by Tyndale House Publishers. All
rights reserved.