I remember lying with my husband on the floor of our nursery, listening to records, and dreaming about the day when cries and laughs would fill the room. It was an idyllic scenario except we didn't have a baby yet; we were on an adoption waiting list with no matches.
From the time I was a little girl, I thought I knew exactly what motherhood would look like. I thought the whole "get married and have kids" was a given. That's just how it works, right? As it turns out, my motherhood journey started nothing like what I had pictured. Yet somehow, it was even better than I had dreamed.
Motherhood came to me by the grace and bravery of another mother. It came by paperwork, legal signatures, a cashed-in 401K, and social workers who ensured we were fit to be parents. We developed a relationship with a nineteen-year-old girl who found herself pregnant but decided she was not ready to raise a child. She still wanted to choose life for her baby and so there we were.
We flew to Arizona from Minnesota to meet Rae, the birth mom who was carrying our son. The online relationship we built was a solid start but when the time came for our little boy's birth, we got to meet this brave woman face to face. Ten minutes waiting at a table in a coffee shop felt like ten months. And then we saw her from a distance. She was petite and maybe all of ninety pounds soaking wet even with her pregnant belly.
How do you greet a woman you've never met who is carrying your child? Do you just shake her hand when she's shown such bravery caring for your son the past forty weeks? Do you throw your arms around a stranger in a fierce hug because she's giving you the most selfless gift? Is it appropriate to burst into tears because everything you dreamed of is about to walk up to your table and say hello?
As she approached our table, we stood up to give her a hug and the tears began to roll down my cheeks. Not surprisingly, words failed me. From mother to mother, the connection had already been made.
A few days later, the hospital called to say we could come and meet our son. Our hearts were racing as we rode the elevator to see Rae and this new boy we'd been waiting for and praying over the past few months. I stood outside the hospital room door knowing that as I walked through the threshold, my life was about to change.
We opened the door and I walked into motherhood. Rae's whole family turned, smiled at us, and held out their arms to embrace us. In that moment, we shared the most incredible, yet rare bond in the world. Tears streamed down my face. Rae extended out her arms toward me with this brand new person in her hands and said, "Here's your boy!"
As I thought about how Rae squeezed her newborn baby and kissed him goodbye, I told my husband on the drive home that I wanted our son to know how deeply Rae loved him. The decisions she made on his behalf were made from pure love. She gave him what we couldn't, and we would give him what she couldn't. She never gave him up; she gave him us.
Stories change lives and this story changed ours. It changed my ability to be a mom. It allowed me to enter motherhood. It was grace, bravery, and selflessness from another mother's decision that became our gift from God.
Motherhood the second time around came through the power of science, medicine, and many prayers. Our younger son came after hundreds of injected fertility medications, probably sixty ultrasounds, one final chance at a fertility treatment, thousands of prayers, and probably a million tears cried on my husband's shoulder. After the eightieth doctor's appointment, our second son became my first and only pregnancy. Our gift of a second opportunity at parenthood was a breath of grace and redemption. Motherhood. Again. Underserved, yet so grateful.
I still have the voicemail on my phone from eight years ago—my fertility nurse called and left the message, "The treatment took and you are about four weeks pregnant." How could this be? I burst into tears every time I listen to that voicemail because I know the prayers, the struggles, the questions we had, and the overwhelming evidence of God's power.
Motherhood is a gift. What I didn't realize growing up, dreaming of becoming a mother one day, was that no matter how it comes to you, no matter how far off it is from your plans or ideas that you have in your head, it's a gift that isn't guaranteed.  
Ephesians 3:20–21 says,
"Now to him who is able to do far more abundantly than all that we ask or think, according to the power at work within us, to him be glory in the church and in Christ Jesus throughout all generations, forever and ever." 
This is the verse we chose for my eldest son. It's the fruition of God blowing our ideas out of the water and doing something far greater than we could have imagined. And then He multiplied that by two and blessed us with our second son.  
Two boys, two wildly different stories of faith, two miracles in their own right, and two hearts that I have been trusted with to guard and raise. Two boys who call me Mom. Thankfully, I didn't get to write my own motherhood story. For me, the way the Lord has written it is far better than what I would have come up with.
Last year, we took our eldest son to the coffee shop where my husband and I met Rae for the first time ten years ago. My eyes started to well up with tears as I told our son the story of how we sat at that table, shook with nerves, and asked a hundred 'what ifs' in our heads. Up walked nine-months-pregnant Rae and our lives were changed forever.
We've seen Rae a handful of times since our eldest son was born. I sometimes fret as I try to create a special experience for both of them. But I'm always reminded that Jesus makes it special. The story that God has written started with Rae and continues with me. He's still writing day by day, even when I think my plans and dreams are better than what God is giving me. He's writing even when I don't have the strength to trust Him, when I think I've messed up His plan, or when His plan seems grim. In these moments, we tell our son the stories God has written for us as they are his stories that he'll tell one day as his own.
This Christmas, I watched our son give his birth mother, who he calls Miss Rae, a hug and then tell me that he knows she loves him a lot. "She loves me and I love her." Simple, isn't it? But it brought me back to the hope I spoke aloud to my husband—I wanted our son to know how much Rae loves him.
I know firsthand motherhood isn't all rainbows and sunshine. Along with the millions of joyful moments, it's also dirty diapers, stinky feet, attitudes, and defiance. In the midst of those unglamorous moments, I see glimpses of heaven. It comes as a package. It comes without certainty, without guarantees. It may not come at all or it may come in a way that we never expected.
As moms, we tell stories. We tell them to ourselves, our families, our friends, and our children. Every single day. We share our stories in conversations and through our interactions with others. The story of motherhood has a chance to be the living, breathing story of the redemption and the grace of Jesus Christ with skin on.  That is what it has been for me. What is your story of motherhood telling others?  
Related Posts:
---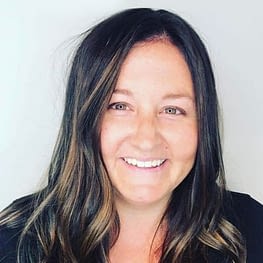 Heyo! My name is Chelsea. I am a wife of twenty years and a mom of two boys.
I do anesthesia by day and am a full-time boy mom at night. I enjoy writing about real life: the
mess, the redemption, and everything in between. On any given day, you can find me dirt
biking, four-wheeling, or watching a hockey game in Minnesota where we live.
Our family motto is learning to live life with a longer table and a shorter fence. In real life, that
looks like opening our home to junior hockey players and doing life alongside them. And it looks
like mentoring birth moms and giving back to that brave group of women.
Some of my passions are marriage, parenting, and adoption. They can all truly be messy topics
at times, but they are areas where I've seen the Lord pour out His grace firsthand.
I am along for the ride of life with you. I just happen to write about it as I go.