When you google "influential Christian women" you will find many of the same women highlighted all over the web. But I want to celebrate three specific women from the Bible who are talked about a lot less. The setting is two thousand years ago at the time of Jesus' ministry on earth. To be honest, I had never really given much thought to how Christ's ministry was funded or how He and His disciples were provided food, lodging, or clothing. But a few years ago, I came across something that blew my mind and helped me find my own direction in an unsure time of my life.
"After this, Jesus traveled about from one town and village to another, proclaiming the good news of the kingdom of God. The Twelve were with him, and also some women who had been cured of evil spirits and diseases: Mary (called Magdalene) from whom seven demons had come out; Joanna the wife of Chuza, the manager of Herod's household; Susanna; and many others. These women were helping to support them out of their own means" (Luke 8:1–3 NIV, emphasis mine).
I don't know how I had never noticed this before, but wow! Women during this time period were not highly regarded. They were not honored but more often shamed. That these women were both used by God in such a huge way during that time and their names were included in Scripture for us to read today is nothing short of incredible.
When I first came to this truth, I was in the middle of processing my own life's purpose. As a single 22-year-old straight out of college, I left the cornfields I knew in Michigan and took a role as a worship pastor in Atlanta and started down a path in vocational ministry. I felt the calling so clearly, it was one of the easiest decisions I ever made. I remember at some point later telling my new husband that if no one paid me to be in that job that I would still do it. It felt like more than a job; I had found my life's mission.
After several years, I took a position in Phoenix where I served for nine years. During our time there we had three of our four boys. I cut my hours to part-time to juggle home life, but money was tight. At one point, out of a desire to live more than paycheck to paycheck, I started a business. And what transpired over the next year or so was something I never could have imagined. I was unexpectedly good at sales and business, two things that had always scared me. Before I knew it, I had a thriving business.
This left me not only surprised but confused. I thought I had life figured out. I thought the call to ministry was a vocational calling and yet I believed God was blessing my efforts in business. I was not only seeing financial success but I was shocked to find that I had even more opportunities to pray with people to accept Christ out in the world than I did in my ministry role. Yet I still held on to a belief that my calling had to include vocational ministry. Over the course of the next five years, I really wrestled with this. I was full of questions: should I choose between business and ministry? If I chose business, did it mean that I was giving up my call to ministry? Is it even ok to have financial success? While I wrestled with those questions, I attempted to do both business and ministry simultaneously, often clumsily.
It was in that season that I came across the verse in Luke 8. When I read about Mary, Joanna, and Susanna, I was so inspired. They stuck close to Jesus and were obviously committed to His ministry; but their contribution and their gift to Him was financially supporting Him out of their own means. God could have chosen to have Jesus birthed into wealth. He could have provided for Him by sending food down from heaven. Instead, the Lord allowed these powerful women of the Bible the chance to obey and give from their own means to support His ministry. Oh, how I love that God uses us to accomplish His purposes! Because of this story we have a beautiful example of women who brought God the best of what they had. They used their gifts to bless and support His ministry and through those gifts, we're impacted thousands of years later.
When I was able to separate my identity in Christ apart from vocational ministry, I realized the way I offered my gifts was going to look different than I once imagined. Serving God must happen wherever I find myself, whatever job I happen to have. Sometimes we draw an overly defined line between our vocation and the ministry God's asking us to partner in.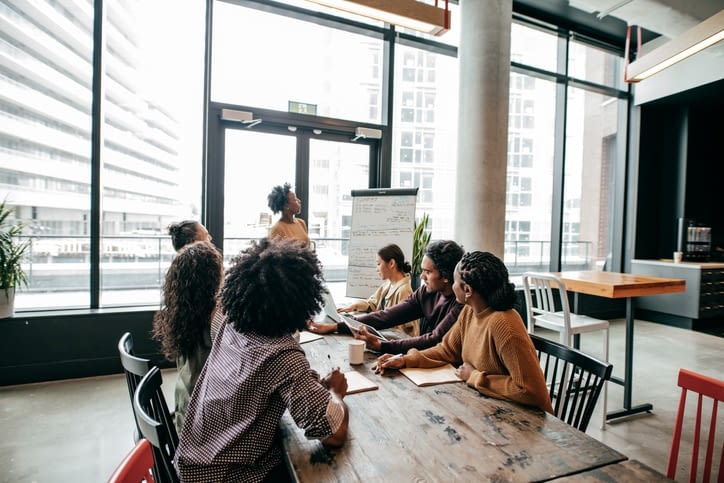 I haven't been in full-time ministry for about eight years now. My career has evolved as God has orchestrated a new path for me. I seek to be the hands and feet of Jesus every day in my work. I'm sticking close to Jesus and I still have a minister's heart. I work for a faith-based, for-profit business called Fourteen Foods, based on Matthew 14 and the feeding of the five thousand. My job is to tell the story of our mission, which in part is daring our employees to hope again for better days ahead. Sometimes that looks like simply providing a steady job with an opportunity for growth. On other days, like recently, someone ended up in my office with a personal heartache. This opened a door for me to pray for the individual. Jesus meets us in these moments, and I'm trying hard to listen out for Him. In those heartbreaking meetings, as well as boardroom discussions and light-hearted conversations by the proverbial water cooler, I've stopped worrying about what is or isn't ministry. Instead, I focus on living fully in Christ.
I've embraced my calling in a way I never thought possible and in a way I once wasn't even open to. And I have settled solidly into showing up each day and bravely asking God what I am to do each day.
I wonder if Mary, Joanna, and Susanna found themselves living lives they couldn't have dreamed of. I wonder what they laid down in order to use their means to fund Jesus' ministry. I wonder if they had any idea that two thousand years later we would celebrate the powerful Christian influencers they were.
To you whose life doesn't look the way you thought it would, I see you. I see you, who dreams of ministry or had to let a ministry opportunity go. Wherever you are, whatever you find yourself doing—do it all to the glory of God. Show up and take up the space you've been given. Be YOU, powerful Christian woman. Just like Mary, Joanna, and Susanna, you were made in His image. Come alongside Him in ministry wherever you find yourself. Be bold; be courageous. Step into your place as His daughter and take hold of the confidence that is found in that truth.    
Related Blogs:
---
Maribeth is a creative, get-outta-the-box instigator with over twenty years' experience leading and encouraging people professionally. You could call her a business exec, speaker, blogger, worship leader, podcaster, entrepreneur, or mentor, but whatever you do, don't call her late for Taco Tuesday. MB loves lighting a fire under people who want more for their lives. She believes if you invest in building incredible people, you can grow an incredible organization.
In her free time, you can find her cooking authentic Mexican food with her husband, Chris, at their home in Tennessee and trying to keep their four boys from tracking mud through the house.