I was kneeling in worship at our church when God spoke clearly to me: "Rachael, take off the heavy armor others have told you to wear. Trust Me to show you which stones to pick up to defeat your giant."​
As He spoke those words, I saw an image of David stumbling around while wearing Saul's heavy armor. While that armor might have worked for Saul, it was not what David needed to defeat Goliath. Instead, God asked David to risk looking like a fool by hand-selecting stones as his weapon.
As a counselor, I love to look at stories from multiple angles. I imagine David might have momentarily wrestled with the decision to not wear Saul's armor. The king himself was offering his armor to this young boy. How could David tell him no? Thankfully, David was more in tune with the voice of the true King, and he turned down that false security of Saul's armor. Instead, he clung to the promises of God.
The Lord gave me this vision as I prepared to launch my book, Image Restored; I, like David, was beginning to crumble under the heavy armor of well-meaning advisors' strategies for successfully launching a book. That plan might have worked for them, but it wasn't working for me. God also showed me how this idea of giants and armor applies to our body image as well.
Some body image giants, or Goliaths, in our lives, might look like:
Weight gain or other health issues, even when we are doing "all the right things."
Shame over our body's appearance or performance.
Negative body self-talk that sabotages our thoughts and life.
Unprocessed pain and trauma from our past that influence our body image.
Comparison to others, even younger versions of ourselves that rob us of our peace and joy.
Pause to Process:
God, what body image giant am I fighting in my life?
Whatever your body image giant, we remove the "heavy armor" He never intended for us to wear.
Here are a few signs you might be wearing heavy armor in this area of body image:
Your body image battle feels lonely, heavy, or hopeless.
Much like David in armor, you are stumbling around and crumbling under pressure to perform or achieve in your body.
There is a lack of the fruits of the Spirit (Gal. 5)—love, joy, peace, patience, kindness, goodness, faithfulness, gentleness, and self-control—in your health and wellness journey.
Pause to Process:
God, what heavy armor do I need to remove and lay at the feet of Jesus?
We have identified our body image giants and removed heavy armor that's not from God. Now it's time to decide which "stones" we need to pick up.
Hearing from God on which stones to pick up:
Tune into His voice. John 10:27 reminds us that God's sheep hear His voice. If you are a follower of Jesus, you have the ability as one of His sheep to hear directly from Him.
Give Him space to speak. While it's true we know God's voice, I think we can miss it because we are quick to make decisions without speaking to Him. If a new diet or exercise program comes along, take a few minutes to ask God if this is a good idea for your body or if it will be more heavy armor. If it's God's idea, that's a stone He is asking you to pick up. If it's just a good idea but not for you, it will feel heavy.
Obey when He speaks. David knew that armor wasn't for him. It took courage to not only walk away from that sort of protection but also to pick up stones as his weapon. I'm sure he was mocked and laughed at by his own people as he walked out to fight Goliath. Don't be surprised if people don't understand when you pick up the stones God is asking you to use to defeat your body image giant. The weapons God gives look nothing like the things of this world. This is a spiritual battle that will need spiritual stones to be won.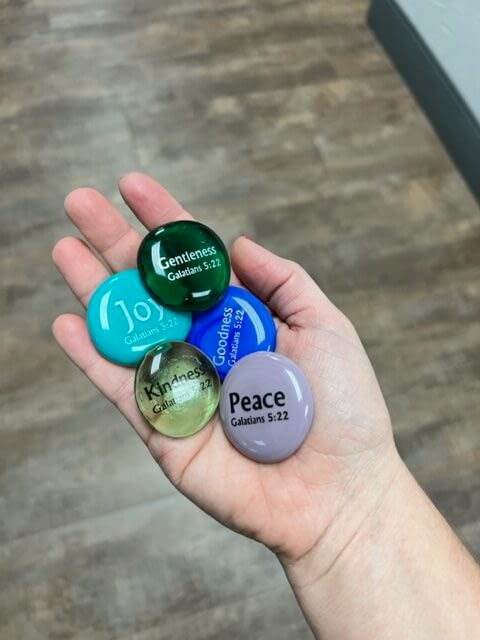 Pause to Process:
God, what is one stone you are asking me to pick up and use in my body image battle?
Can I invite you to prayerfully consider one of those stones being Image Restored? This is a resource unlike any body image book you've ever encountered. It will ground you in God's love and build you up in His truth. Those are stones I am always willing to pick up, as His word always does what it sets out to do (Isaiah 55:11).
You can learn more about Image Restored and join our community of body image warriors.
In it with you,
Rachael Joy
---
Order and learn more about Image Restored here: www.imagerestoredbook.com.
---
Rachael Gilbert, MMFT, is a wife, mom, counselor, owner of BBC Health, author of Image Restored, speaker, and podcast host of Real Talk with Rachael.
Rachael helps women find their voice and the courage to use it. She loves having real conversations and helping women live freely so they can pursue their God-given dreams. You can find her at www.rachaelgilbert.com, or on Instagram @rachaeljgilbert.
​
​